COLLEGIATE COUNCIL
---
The Collegiate Council is a select group of student leaders on-campus who go above and beyond to enhance the 12th Man Foundation's footprint through ambassadorship and student engagement.
Mission
As student leaders, the Collegiate Council serves as brand ambassadors for the 12th Man Foundation by encouraging student involvement and educating the student body on the mission of the 12th Man Foundation.
Impact
The Collegiate Council gives dedicated students the opportunity to be leaders on Texas A&M University's campus. Members will represent the 12th Man Foundation by spreading awareness throughout the community, educating other student organizations, helping facilitate student member events and interacting with 12th Man Foundation donors.
Applications for the 2023-24 Collegiate Council are closed!
Qualifications
2.5 GPR or higher
Current student at Texas A&M University (2023-2024 academic year)
Must be an active Student Member with the 12th Man Foundation
Must Attend (1) Collegiate Council Informational (Feb. 8, Feb. 9 or Feb. 22)
Requirements
2 hour minimum in-office per week
Monthly council meeting
Marketing and Promotion
Community/Campus speaking engagements
Annual dues of $100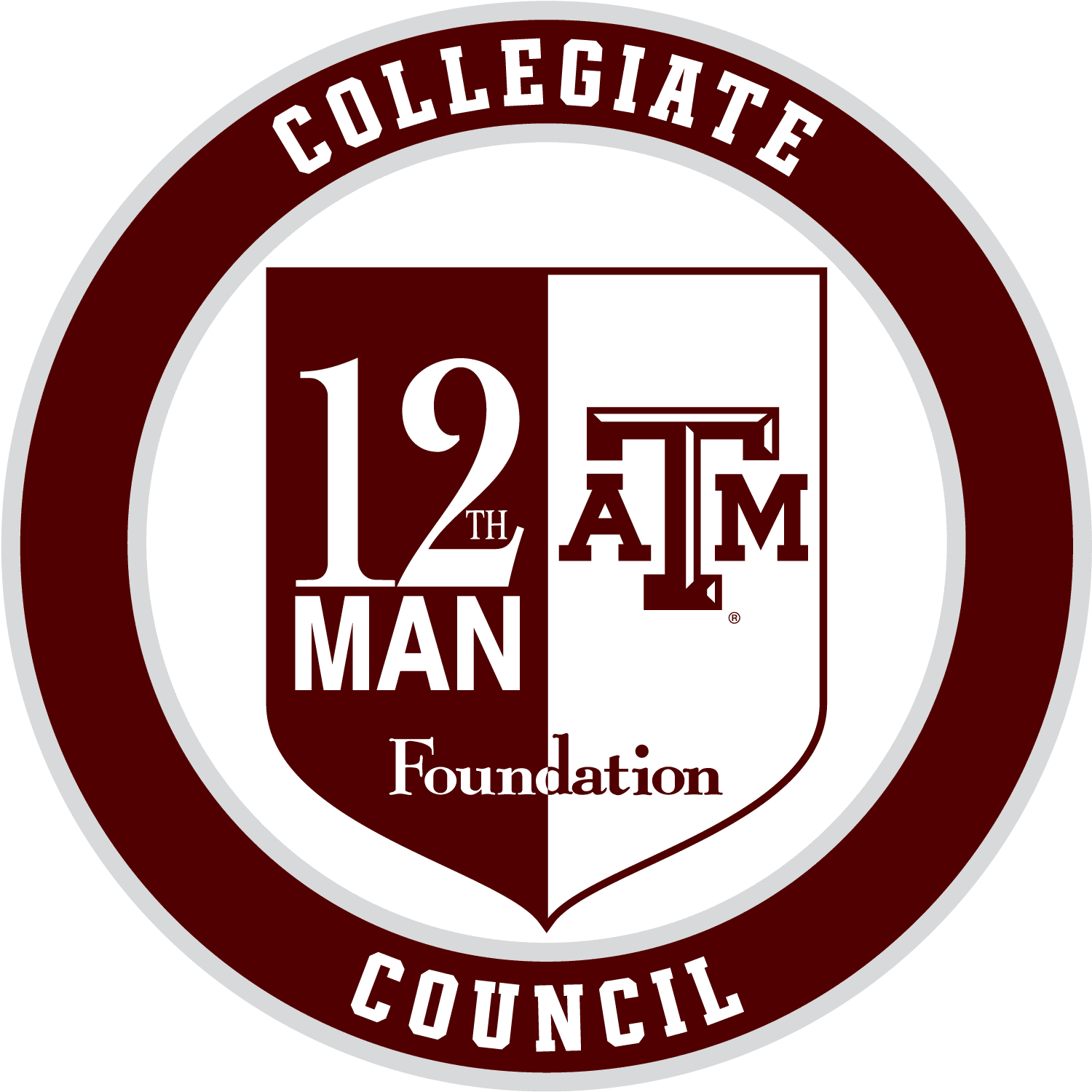 2023-24 Collegiate Council
---
Officers
---
President - Kyle vonBehren '24
Vice President - Katie Taylor '24
Student Engagement Chair - Jack Torn '25
Administration Chair - Lainey Mandaville '24
Marketing Chair - Preslie Thomas '24
Events Chair - Kate Carlin '25
Student-Athlete Chair - Carter Bajoit '24
Members
---
Adrian Barajas '25
Travis Carlson '24
Tyler Cooper '26
Jackson Dark '23
Josh Davis '24
Payne Davis '26
Royce Dawkins III '24
Gentry Garner '25
Blake Guerra '25
Clay Hoover '25
Julia Horak '26
Carter Monrad '24
Laney Muench '25
Alexis Ortiz '24
Mary Grace Rodriguez '23
Anna Stone '24
Caitlin Torn '26
Caroline Torn '24